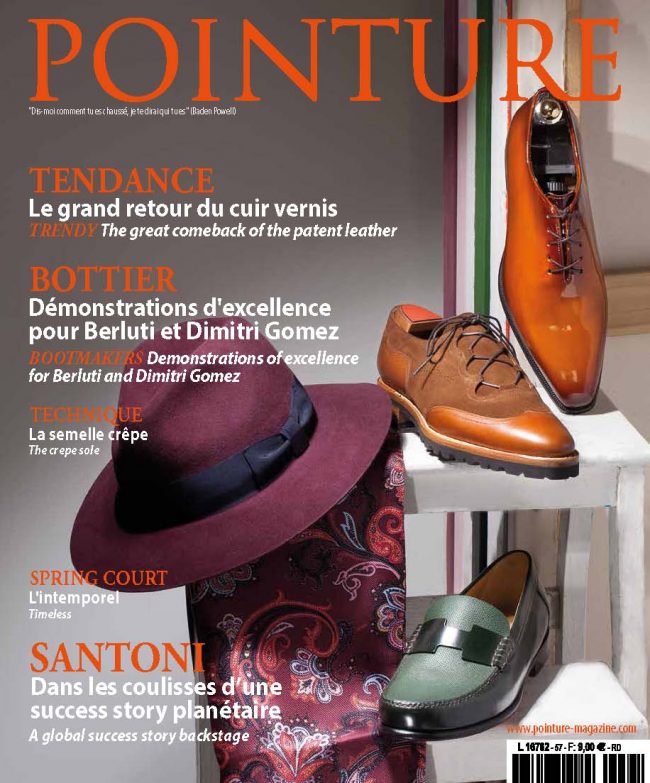 POINTURE numéro Hiver… coming soon… FR&UK
A lire :
6 Les News
Breaking News
10 Santoni
Dans les coulisses d'une success story planétaire
A global success story backstage
18 Evénement / EVENT
Berluti lance le Zéro-Cut
      Berluti launches the Zero Cut
22 Philippe Atienza
fête 40 ans de métier et lance son prêt-à-porter
      celebrates 40 years of bootmaking by launching his first ready-to-wear
26 Tendance / TRENDY
Les vernis de couleur
The colored varnishes
34 Dimitri Gomez
Démonstration d'excellence bottière
Demonstration of excellence
36 Etro
Family business
Family business
42 La semelle crêpe / The crepe sole
Espèce en danger ?
Endangered species?
46 Coup de Cœur  / Crush
Christophe Corthay
Christophe Corthay
50 Mes Chaussettes Rouges
Seul et unique !
      The one and only!
55 JAPAN BOOTH
Les fabricants japonais conquièrent le MICAM
Japanese manufacturers conquer the MICAM
60 Spring Court
Intemporelle et actuelle
      Timeless and current
67 Gros Plans / CLOSE-UPS
     Caractères forts / Strong cHaracters
68 Colisée Paris
70 Crockett & Jones
72 Finsbury
74 Marc Guyot
76 Hermès
78 Jimmy Choo
80 John Lobb