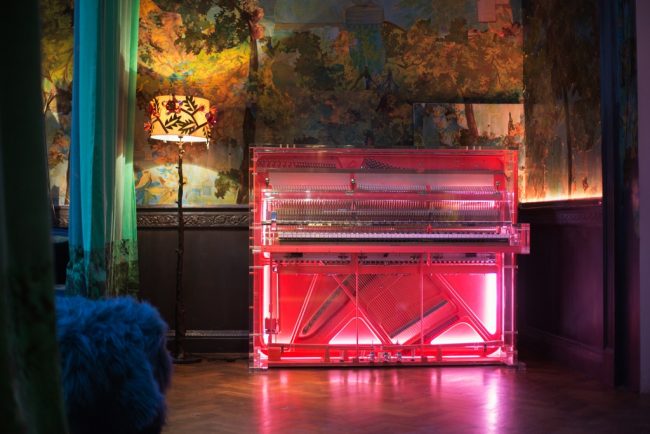 This is the amazing pink piano of all your sci-fi dreams
Bombay meets Blade Runner in designer Dio Davies's latest creation – a coral pink piano that's straight out of science fiction.
The up-and-coming Notting Hill designer's bespoke Coral Piano sees a world-class Edelweiss piano enclosed inside a transparent perspex shell, which can be illuminated by neon LED lights.
The futuristic statement piano, inspired by the furniture designer's travels in India and her love of sci-fi movies, also has a self-play system that allows tracks to be played wirelessly from a concealed iPod and hidden speakers.
"It's a piece of furniture that starts the party!" says Dio, who is already making waves in design circles with a collection of acrylic furniture meets art. "I wanted to create the ultimate interactive experience, a sculpture that at the flick of a switch turns into a radiant and dramatic centrepiece, drawing you in both by sight and sound.
"I took my love of films such as Tron and Blade Runner and their technological aesthetic – and the colours from my travels: tropical sunsets, flamingos and coral shells – and used crisp, dazzling acrylic to transform this hand-crafted artisan instrument into a vibrant work of art."
She continues, "I wanted to respect the heritage of the piano and its traditional mechanisms, the wooden hammers and leavers, and the classic black and white keys. However, I wanted to take it into the future and the transparency presented an exciting challenge," adds Dio. "The piano needed to be beautiful, whilst also hiding the digital wizardry that allows the Edelweiss self-play system to operate behind the scenes."
Dio decided to collaborate with piano company Edelweiss, which has been handcrafting self-playing, custom pianos from its Cambridge studio for more than 40 years.
She says, "Edelweiss was the only company I could find that could build this piano, and help me realise my dream. I wanted something magnificent but musically precise; and their craftsmen were able to configure the exact design, colour and materials I was looking for."
Ross Norman from Edelweiss says: "We relished the challenge to work with Dio, and to create something completely different. In this case, taking a piece of statement furniture into the fourth dimension, giving it colour, light and sound."
The Coral Piano is priced at £38,000 (including VAT) and can already been seen at Mayfair cocktail lounge Sketch. To enquire, contact Dio Davies: 0207 754 1198 or email hello@diodavies.com
______
Dio Davies designs commissions in the UK and abroad for leading interior designers and private clients. Find out more about her work at diodavies.com.
The Coral Piano comes with a hidden iPod pre-programmed with 400 songs. A bank of precision electronic solenoids, invisibly built into the piano accurately plays the selected music as originally recorded.
Edelweiss self-playing pianos are made by world-renowned Cambridge piano maker and restorer 1066 Pianos. Set up in 1975 by a physicist who wanted to apply the meticulousness of science to restoring and building fine pianos, it has more than 10,000 square feet of workshops devoted to building and restoring pianos.
Edelweiss builds custom pianos, with no limit to what can be achieved. Designers can also choose from thousands of colours, finishes and materials using the piano configurator, to create their dream piano online. Find out more at edelweisspianos.com
______